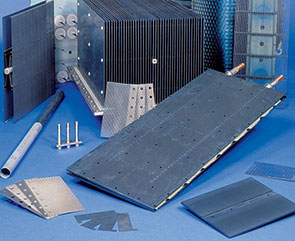 Uniform copper deposition, reliable via filling ability, elimination of surface roughness and low additive consumption make the use of De Nora DT® anodes the specified solution for today's demanding circuit board designs.
De Nora DT® anodes are custom designed to ensure optimum plating performance:
Stable anode area providing uniform plating distribution and better via filling power;
Extremely low additive consumption and long service lifetime;
Improved plating bath life and performance by reducing additive by-products
Elimination of tedious anode maintenance;
Increased equipment uptime/capacity at high current density operation;
The one disadvantage to insoluble anodes is that, unlike soluble anodes, the metal ion being plated must be replenished in the plating bath. De Nora also offers a copper oxide dissolution system which is external to the plating tank. The copper oxide dissolution system is designed to allow for a tightly controlled addition of copper ions into the plating bath thus controlling the copper concentration to within 5% of the specified bath concentration.