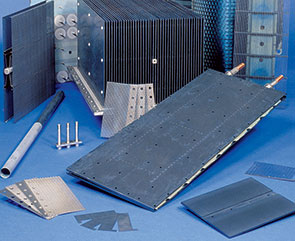 Uniform copper deposition, reliable via filling ability, elimination of surface roughness and high additive consumption make use of De Nora DT® anodes: our solution for today's challenge.
De Nora DT® anodes are offered in standard and custom design to ensure optimum performance:
Stable anode area providing uniform plating distribution and better via filling power;
Extremely low additive consumption and long service lifetime;
Improved plating bath life and performance by reducing additive by-products
Elimination of tedious anode maintenance;
Increased equipment uptime/capacity at high current density operation;
The one disadvantage to insoluble anodes is that, unlike titanium baskets, the metal ion being plated must be fed into the plating bath. Some customers overcome this by simply adding the metal to the bath directly. De Nora also offers a metal dissolution system which is separate from the plating tank. In this way, the metal ion can be metered into the plating bath in a very controlled manner which allows tight control (within 5%) to a specified bath concentration while eliminating operator ergonomic issues.