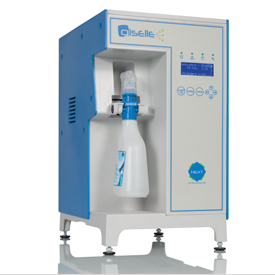 Giselle® is an innovative patented* system used to produce on‐site and on‐demand sanitizing and disinfecting solutions that are effective against bacteria, viruses, fungi and spores.
(*)PATENT PENDING:
‐WO2011157812
‐WO2011157811
Advantages of Giselle®
Good material compatibility, disinfecting and sanitizing solutions at pH of 9
Multiple solutions in one system:

One‐step sanitizer for hard, non‐porous environmental and food contact surfaces
One‐step disinfectant for hard, non‐porous environmental and non‐critical care equipment surfaces

Ready to use, fresh solutions
No concentrated chemical handling, no dilutions
Cleaning and deodorizing properties of the solutions
Environmentally friendly

Lower transportation environmental impacts compared to bottled products
Reduction in plastic use
Raw materials for solution generation are just tap water, salt (NaCl), and electricity

Compact, mobile system
Less chemical storage, only salt and tap water when not in use
One year warranty included
Giselle® receives EPA registration, October 1, 2015
De Nora received US Environmental Protection Agency registration for three Soleva® sodium hypochlorite solutions (0.6%, 0.1%, and 0.05%), Giselle 1.0 and 2.0, and the sodium chloride precursor.
The solutions are classified as a one-step sanitizer (0.1% and 0.05%) and one-step disinfectant (0.6%) for non-porous surfaces. They are registered for treatment against bacteria, viruses, fungi and spores.